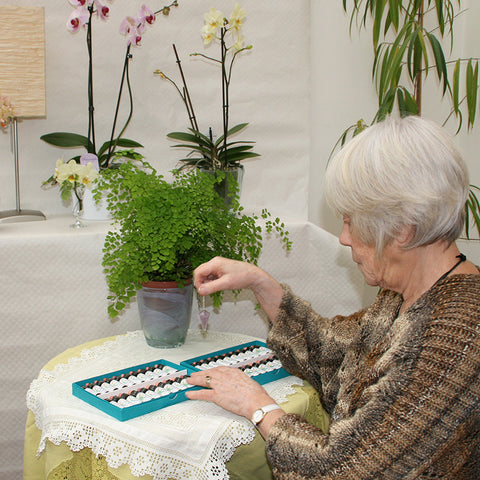 Dowsing for Essences
A skilled dowser will select essences from the full Bailey range, Bush, Bach, Indigo and others. A bottle of essences will be made up and sent to you, together with a list of the chosen essences and what they are for.
10ml bottle
You can choose saline if you prefer, or vodka/water base.
If there should be any difficulty in selecting which essences you need, we do offer a dowsing service. A pendulum is used in the hands of an experienced dowser to ascertain which flower essences would be most appropriate for you at this time.
There are two main ways of working with flower essences in this way. You can either have an essence made up for where you are in your life right now, or you may choose to work with a specific issue. If you would like to work with a specific issue, you need to send a note with your order giving a brief outline what you would like.
In order to receive a dowsed dosage, you need to send a small hair sample, or a photograph (unless we already have one on file). If you post a hair sample, we will be unable to process your order until the witness has arrived. If you choose to send a photograph, please send one attached to an email, clearly marking the email and the photograph with your name and a request for the dowsing to be done. Our email address is office@yorkshirefloweressences.com
Dowsing is usually done weekly, and then will be posted out the same day. If your request is urgent, please mark it as such and we will do our best to process your order speedily. Once the dowsing has been done, a dosage bottle will be sent to you together with details of the essences chosen.
Please ask if you need your essences in a saline solution.
Please note that we dowse over a selection of different ranges of essences. If you prefer to use just Bailey, you should state this clearly when you order.
---
We Also Recommend