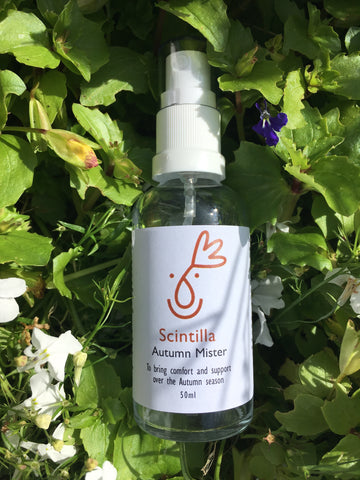 Scintilla Autumn Mister
Enjoy the comfort of the longer autumnal days, with the Scintilla Autumn Mister. The Summer is moving towards its conclusion. This is a time for gentle reflection and relaxation. The Scintilla Autumn Mister can bring regenerative energy though Autumn. 
An infusion of:
Flower and vibrational essences of Fylfot Stone, Gorse, Soft Rush, Heath Bedstraw, Honeysuckle, Cerato.
Therapeutically blended essential oils of Jasmine, Sandalwood, Patchouli, Myrrh, Marjoram, Lavender, Hyssop, Frankincense, Clary Sage, Chamomile and Benzoin.
(We do not recommend using this mister during pregnancy) 
---
We Also Recommend