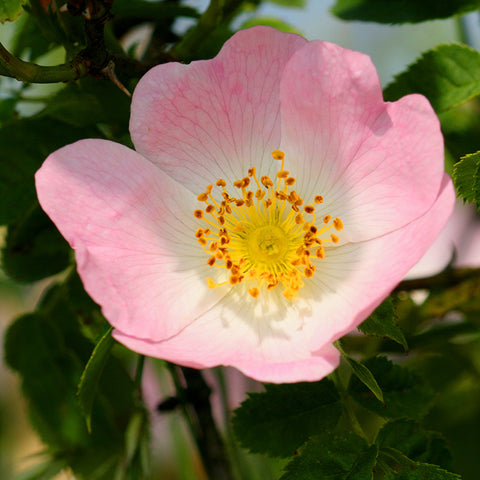 Dog Rose
For loving comfort and support, for help along our path when life gets difficult.
10ml
Rosa canina
Made with the sun method using only the flowers and with vodka water mix.
Dog Rose is a component of Grief, Sadness & Loneliness and Earth Excess.
The wild Dog Rose is one of the most beautiful flowers of the countryside. Its pale pink colour mirrors its properties of love and compassion - those of the "Heart protector" meridian in shiatsu and acupuncture.
This is the flower that is known as Wild Rose in the Bach remedies, but ours is a sun essence which produces quite different properties from those of Bach's boiling method.
Dog Rose can help us when times are difficult, when we need loving comfort and support and when, however sympathetic our human friends may be, they cannot really help us. Often our hurt and need may have gone deep, as in bereavement, and we need something that can bring us solace and support without dulling our senses.
Dog Rose helps us by taking the sting out of hurtful situations, but at the same time its thorn may help us to remember that it also provides us with a protecting influence. Shakespeare mentioned "the slings and arrows of outrageous fortune" - that is how our life can feel at times when everything seems to be ranged against us. Here Dog Rose comes into its own, comforting, supporting and protecting us.
This flower acts in two quite distinct ways. First it gives immediate relief but it also helps us to develop our own loving and compassionate nature, and protects us from negative influences, both internal and external.
Dog Rose is for loving comfort and support. It is like having a close friend with whom we can share our difficulties and our despair. It helps us to open up to the depths of our grief and then brings the love, comfort and support that enable us to continue.

---
We Also Recommend