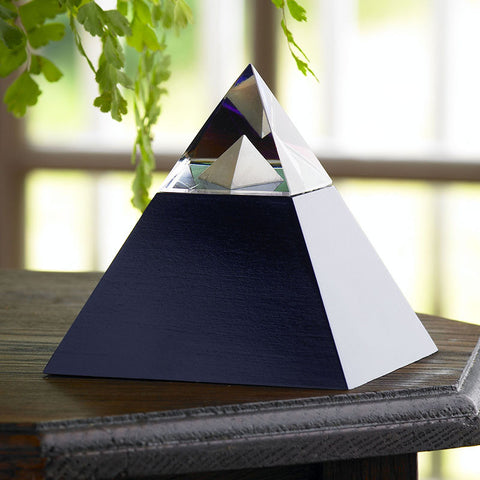 Geopathic Stressbuster
Our Stressbusters are now back in stock !

The Geopathic Stressbuster transforms and neutralises Geopathic Stress and other negative energies. It is effective for approximately 50 feet (15 metres) in all directions (the equivalent of 4 floors up and 4 floors down, ie, 9 floors). It also reduces the effects of electro-magnetic radiation within the building.
How does it work?
Four different complex electronic waveforms are magnetically coupled into a pure quartz crystal at very low frequencies. Two of these frequencies are at approximately the natural resonant frequency of the earth. The crystal is simultaneously optically pulsed with visible light. This activates the crystal's harmonizing properties creating a subtle energy field, which neutralizes the negative geopathic energy.
In other words the negative energy is neutralized by the energy field created by the Stressbuster's energized quartz crystal.
Does it help with electro-magnetic stress, mobile phones and substations?
Electro-magnetic radiation from power lines, pylons, substations, mobile phone masts and even computers can also have a detrimental effect upon health. Our tests show that Geopathic Stress can make sufferers more susceptible to other stress related conditions and influences. Although it is not the primary purpose of the device, removing Geopathic Stress using a Stressbuster will automatically lower your stress threshold and increase your resistance, making you much less susceptible to the effects of Electro-magnetic radiation and other negative influences.
Does it have a guarantee?
The Stress buster is fully guaranteed against failure and manufacturing defects for a period of two years, but if you are unhappy with your unit for any reason, we offer a full money-back guarantee, providing that the unit is returned to us in perfect condition, within 6 weeks of purchase.
Size: 110mm square at the base and aprox. 115mm high.
Please note that the crystals are hand-cut and may vary in shape. The base is made from wood taken from a sustainable source.   
For more information, please check our Helpful Tips.
---
We Also Recommend