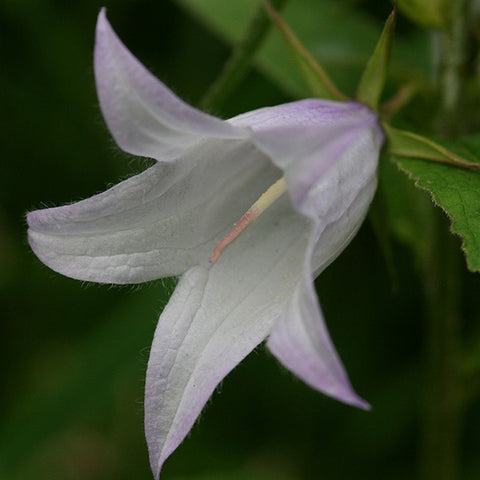 Giant Bellflower
The clarion call for change. It is the catalyst for action where old habit patterns have been holding us back.
10ml
Campanula latifolia
Made with the sun method using only the flowers. The seed head is then floated separately in vodka in the sun for the same length of time. The two are mixed together to make the Mother Tincture.
Included in standard set of 60
Giant Bellflower is also a component of Cellular Memory.

This flower possesses energies that act as a catalyst for people wanting to change their life.
It is particularly pertinent in empowering these changes whether in direction or in the need to clear out clutter. Rather like celebrations at New Year, it helps to activate "Ring out the Old and Ring in the New".
The difficulty in changing things in our life is that whereas we may look forward to the New, the Old has a nasty habit of holding on and not wanting to just become a part of our past experience.
Old attitudes and patterns do not always bow out gracefully, they can seem to have developed a life of their own. Indeed it can feel rather like a battleground between conflicting ideas and emotions.
The Giant Bellflower helps to smooth our path when change is necessary, and indeed inevitable and also to acknowledge what we have gained from our past without wanting to cling on to it. It helps to take the trauma out of major changes in our life and it helps to activate those changes when we may otherwise tend to keep putting off making much-needed decisions.
It is a flower that is not easily ignored as it rises above all other vegetation. In just the same way, the essence of the Bellflower is beautiful but not to be ignored when it sounds its clarion call.

---
We Also Recommend