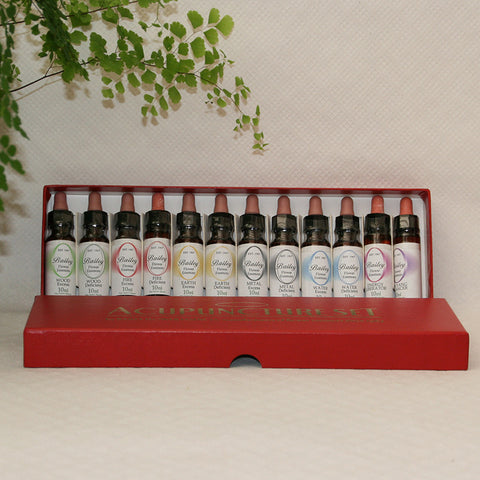 Five Elements Set
Set of 12 essences for conditions of excess or deficiency in the five Chinese elements. Also includes essences for Yin/Yang balancing and energy liberation.
Specially formulated for easy selection by therapists who use meridians in their therapy.
12 x 10ml bottles presented in a neat red box. Instruction leaflet included.
This set of composite essences has been specially formulated for easy selection by therapists who use meridians in their practice, such as acupuncturists, shiatsu practitioners and so on.
The set comprises 10 essences for conditions of excess or deficiency in the five Chinese elements as listed below. In addition there are essences for balancing yin and yang and for liberating stuck energy.
The essences can be selected according to Five Elements theory, TCM patterns, hara diagnosis or, as with other flower essences, they can be selected intuitively. In practice we have found rapid changes to pulses/hara when the essences are taken, further helping to confirm the essences selected. They can be given during treatment as well as being made up in a dosage bottle for the patient to take home. This supports the therapy and patients feel "held" between treatments. 
WOOD DEFICIENT
Presenting Qualities
Lack of control, inability to plan, poor judgement, poor co-ordination, vacillation, no anger - doormat and no life/soul purpose. 
WOOD EXCESS
Presenting Qualities
Over-controlling, angry, resentful, bitter, opinionated, judgemental, stuck and inflexible.
FIRE DEFICIENT
Presenting Qualities
Lack of joy, inability to speak, cold extremities, apathy, depression, exhaustion, inability to love, hatred.
FIRE EXCESS
Presenting Qualities
Compulsive, desire for permanent joy, aggression, impatience, impulsive, over the top, goes too far, inappropriate laughter.
EARTH DEFICIENT
Presenting Qualities
Loss of appetite, lack of metal clarity, over-thinking, worrying, needy, clingy, unsympathetic, easily led, lethargic, ungrounded, self-centred.
EARTH EXCESS
Presenting Qualities
Over protective of others, smothering, overly sympathetic, overly responsible, obsessive, obstinate, stubborn, seeks sympathy.
METAL DEFICIENT
Presenting Qualities
Unable to relate to others, loss of structure, disconnected, melancholy, prolonged grief. 
METAL EXCESS
Presenting Qualities
Rigid thinking. Unreceptive to new ideas, controlled and controlling, overly analytical, overly ambitious, unyielding.
WATER DEFICIENT
Presenting Qualities
Fearful, can't stick to anything, poor memory, lack of will power, premature aging, loss of libido, feelings of guilt, moaning. 
WATER EXCESS
Presenting Qualities
Recklessness, over-ambition, over-dominant, excessive sexual desire, jealousy, holding a grudge.
ENERGY LIBERATOR
Energy Liberator helps to kick start the energy movement around the control and creation cycle. Energy Liberator is for those times when the energy just feels to have come to a complete halt. 
YIN/YANG BALANCER
The concepts of Yin and Yang loosely equate to feminine and masculine, soft and hard, shadow and light, left and right, etc. Yin is primarily receptive and intuitive whilst Yang is primarily outgoing and logical. This composite essence helps to balance and stabilise these qualities bringing harmony and dynamic stillness to the being.
All made with vodka water mix.
---
We Also Recommend